Career Opportunities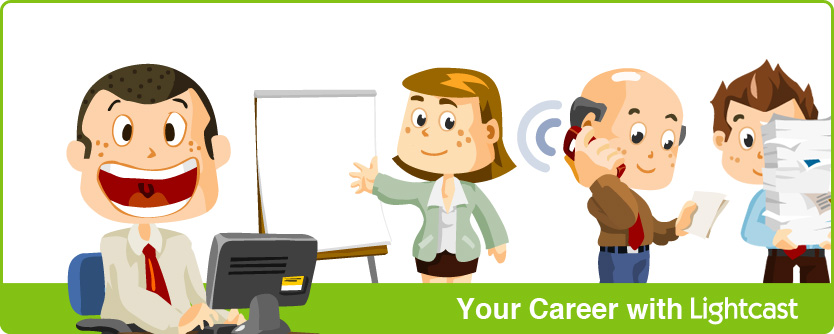 Sales Associate - Online Media Solutions for Churches & Non-Profits
Lightcast.com, a leading OVP and CDN which helps businesses, not-for-profits and churches to extend their reach through optimised digital media distribution and publishing applications, is now looking for an energetic, conscientious and talented individual who enjoys making a difference, being part of an international team and takes pride in their career to work in our young and growing start-up environment.
We are looking for a dynamic sales talent with experience in b2b technology services, as well as appointment setting (100+ phone calls per day) and assistance to sales executives. You will be working closely with our Sales Manager team with the opportunity to learn and grow. Are you ready for a new challenge and eager to earn money? If you have the drive and talent to be great we want you on our team! Future management positions available also!
We are looking for: self-motivation, integrity, character, communication skills, a passion for networking and communication, a "go-getter-attitude" with goals far higher than just to pay the current bills.
EXCELLENT OPPORTUNITY FOR THOSE LOOKING TO START A NEW CAREER OR GRADUATES!

Prerequisites:
- Adaptable personality with strong problem solving skills
- Preferably existing business relationships and leads
- Callcenter experience preferred
- Understanding of web-based business and sales
- Independent work ethic
- Years of Experience Required: 1
More information on the company for your convenience: www.lightcast.com

Location: Charlotte, NC
This is a contract job.

Please send your application to dreamcareer[at]lightcast[dot]

Web Developer / Tech Support (Charlotte - U.S. & Romania)

Lightcast.com now offers a Developer and Tech-Support position with exciting projects, cutting-edge technologies and a diversified scope of work. You won't be bored in this position! You will have the opportunity to develop the latest-gen applications for media streaming, social media distribution and CRM functionalities, as well as assisting in server administration. This position requires some skills and experience, but also provides an outstanding opportunity to acquire new skills, knowledge and experience in a variety of exciting projects, such as ConnectedTV media delivery to Roku, GoogleTV, FireTV and much more.

You will be working in a small team at our creative Charlotte office location, as well as participating in weekend call support rotation. You will be provided a company cell-phone and will provide Tech-Support for customers both over phone, chat and ticket system. This full-time position combines the best of both worlds: direct interaction with customers providing tech-support, as well as developing new web applications and administrating the server system.

We offer attractive, competitive compensation, interesting variety of tasks, interaction with international offices, meaningful projects, a peaceful work environment and a young and dynamic team.

Skills:
- excellent knowledge and a minimum of 5 years experience in html/css, javascript/ajax and php/mysql development
- excellent knowledge and experience in object oriented programming
- good knowledge in linux server administration
- experience in network administration
- preferably experience with Database Cluster Setups, Load Balancers and Fail Safe Storage Solutions
- experience with development for desktop computers, tablets and mobile device
- preferably experience with frameworks like cakephp
- preferably experience in the field of video streaming
- experience in technical customer support
- accuracy and affinity for usability and design
- good working knowledge of e-mail, FTP, SSH
- thorough knowledge of website accessibility guidelines and data protection practices
- experience working directly with clients in a highly professional manner
- excellent oral and written communication skills

Tasks:
- development of highly professional HTML/CSS layouts for desktop, tablets and phones
- development of javascript/ajax elements
- development of PHP/mysql code for front end and back end applications
- server administration and troubleshooting 24/7
- technical support via email, ticket system, messenger or phone for clients and coworkers also on weekends (rotation)

Please email your resume with complete job history for consideration (please reference the job title in the subject). Due to the anticipated volume of responses, we will contact only those candidates who most closely match our requirements. Only local candidates will be considered.

About Lightcast, Inc.:
Lightcast.com, a leader in the streaming media market, helps businesses, churches and every kind of organization to extend their reach through new media technologies and digital media distribution, and is now looking for an energetic, conscientious and detail oriented individual who enjoys making a difference, being part of an international team and takes pride in their career to work in our young and growing start-up environment.

Sales Manager - Online Media Solutions for Churches & Non-Profits
Sales Manager for Lightcast - Media and Marketing Services for Churches, NPOs and SMEs
An absolute "Dream Career" for experienced Sales Managers: a one-of-kind opportunity to become part of a high-energy-team, building Lightcast USA, earning high commission, base, benefits and even equity, while being part of shaping the face and the service of this fast-growing technology- and marketing company.
We are looking for a dynamic, self-motivated sales manager, with experience in sales of media and technology services, preferably within the faith-based market. You will be given the opportunity to help build Lightcast USA from the start, overseeing its expansion, developing and training sales teams, recruiting and training Affiliate Partners. You will have to proof your sales skills and character. You initial goal will be to sell Lightcast's unique products and service packages to Churches, NPOs and SMEs in the Southeast of the United States. Long-term you will oversee the expansion across North-, Central- and South America, including the training and supervision of regional sales offices.
Further attributes we are looking for: character, integrity, reliability, communication skills, team player abilities. You will be challenged to work hard diligently, but if you are up to the challenge - above- average rewards will await you. We are willing to work with you if you work with us! We look forward to receiving serious replies from serious sales professionals.
Prerequisites:
- Adaptable personality with strong problem solving skills
- Existing business relationships and leads
- Understanding of web-based business and sales
- Independent work ethic
- Years of Experience Required: 5
- Education Required: MBA
More information on the company for your convenience: www.lightcast.com

Location: Charlotte, NC
Employee Type: Full Time
Please send your application to dreamcareer[at]lightcast[dot]com