Intelligent Video Players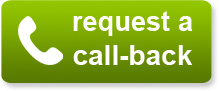 As a Lightcast client you receive complimentary video integration tools, such as customizable, intelligent video players and media centers for your VOD and LIVE video delivery.
We put over half a million into developing unique and customizable video players you can customize and use absolutely free of charge. With our innovative video players and media centers you can integrate your VOD content and your live streams seemlessly into your website, making it look like you invested 50 grand or more into the development of your own video players and media center solutions.
All Lightcast players and media centers are absolutely ad-free and free of related videos or watermark branding. The player screen does not link anywhere, or open any third-party website in the viewers' browser.
When integrating (embedding) video players on your website it is highly important to look for a solution that is: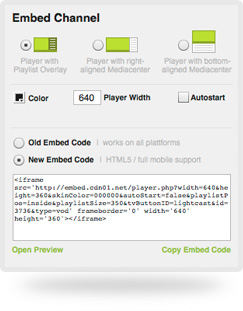 Not advertising for other brands and products
Not promoting videos from other companies (especially competing companies and products)
Not opening a new browser window (or replacing your website) with a video sharing platform, stealing your valuable website visitors.
Here are some of the main features of Lightcast's intelligent video players:
Non-branded, ad-free, no related videos

VOD archive menu - optionally on the player as slide-in menu, or outside the player to the left or below the player. The VOD archive menu displays all your videos of that particular channel with thumbnails, video titles, description and upload date. Media centers (video menu outside the player) have a search function, allowing your viewers to search for specific keywords or terms connected to your videos.

Social media sharing features: allows your viewers to share the videos straight to their Facebook, Twitter and many other social sites with one mouse-click.


Automatic bandwidth switching: the intelligent Lightcast players measure your viewers' bandwidth (at their location) within the first split of a second and automatically deliver the video quality which fits their available bandwidth. The viewer's bandwidth is being measured continuously throughout the video viewing and the video quality is upgraded or downgraded seemlessly (without rebuffering) whenever the available bandwidth changes on the viewer's end. More details about Lightcast's advanced multi-bitrate video delivery technology under "12x Transcoding", "Video Hosting" and "Content Delivery Network".
HTML5: While Flash Players still offer a lot more capability in regards to functionality, interactive features and customization, many mobile platforms have decided not to support Flash due to competition and other corporate strategies. This pushes a new video player technology: HTML5. At the same time there are still millions of web browser in operation which are not compatible with HTML5.
The only solution is to provide a device-sensitive and adaptive Media Player which automatically detects each viewer's device and automatically loads the HMTL5 player when Flash is not supported. A professional solution like Lightcast does this without even being noticed by viewers. All Lightcast media hosting plans include HTML5 players.

3rd Party Embedding: You can allow viewers to re-embed your video content on their websites and social sites – through the retrieval of the on-player embed code – in order to extend your media's reach by leveraging the traffic on their websites. This can hold potential for a very dynamic viewership growth and it can ignite viral marketing of your content. You have full control over the re-embed permission settings through your Control Center and you have the right to change to allow or disallow re-embedding of your video players at any given time.
There are plenty of other features of the complimentary Lightcast video players and media centers. Request a call-back for more information or contact us via our contact form. We recommend to simply activate a trial or a Lightcast Service Package and explore the complimentary video players and media centers for yourself.