Social Media Strategy Consulting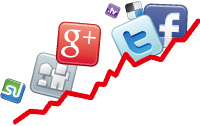 You know how to use the Social Media Control Center, but need help in finding the best and most effective strategy for your business or organization? Lightcast can help you to define social media goals and a social strategy which meet the needs of your clients, partners, members or donors. The discounted Strategy Consultation can be ordered at $250/hour for service subscription clients, instead of $349. It includes the basic evaluation of your brand's benchmark online presence, possible social media strategies according to your goals and overall marketing strategy, refining existing social media strategies, content strategy and questions and answers.

Interested? Contact us at www.lightcast.com/contact or call our 24/7 desk at +1-800-310-0413 to schedule a social media training date and time.