Social Media Control Center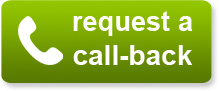 In order to follow all actions of Lightcast step-by-step, such as the installation process of your Social Media Accounts, the setup of your video hosting services and the execution of all other webmarketing services included in your subscribed Lightcast Service Package and to submit and schedule your updates and publications to all your social accounts - we have built a nifty "Social Media Control Center" for you.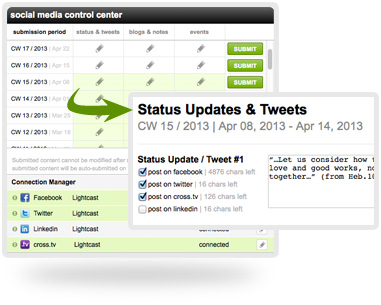 Lightcast's innovative "Social Media Control Center" gives you a real-time overview of the performance and execution of each service performed for you by Lightcast in the "Service Activity Log" and, even more importantly, it is the channel of communication through which you save and submit text content for status updates, tweets, blogs and events for your social media sites. It allows you to copy and paste or type text content into different fields for status updates, tweets, blog articles and events, edit them as long as you like and then save them to our secure servers by clicking "submit" whenever you feel your text copy is ready for publication.
Now your text and event submissions are securely stored in your account on our servers and your assigned Lightcast Social Media Specialists will review them, make little improvements wherever necessary and publish them for you on all your Social Sites: your Facebook Page, your Google+ Page (for Platinum and Diamond Clients), your Twitter and optionally your cross.tv - while you can collect new material, enter and submit more postings for the next round of publications. And all along you will be gently guided and supported by our Social Media Specialists in selecting material and writing posts for your publications.
Alternatively you can also outsource the content writing, by hiring one of our experience Social Media Authors, who will write and submit status updates, tweets, blog articles and events on your behalf. While your discounted Service Package is at a fixed monthly or annual price, the outsourcing of your content writing is a "Custom Service" and its costs depends entirely on your requriments. Simply contact us for a quote on "Writing Service".