STREAM LIVE with Lightcast
Capture more viewers, more leads, more revenue! Publish all your live-events and linear streams to your websites, media campus, mobile apps, YouTube Channel, Facebook Page, Roku Channel, FireTV App, AppleTV and other OTT publishing properties at the same time - with one click.
Broadcast live events and linear streams - from any location, any encoder. Use any bitrate, any resolution and stream to any device, screen, player and platform.
Your Live-Events on EVERY Screen!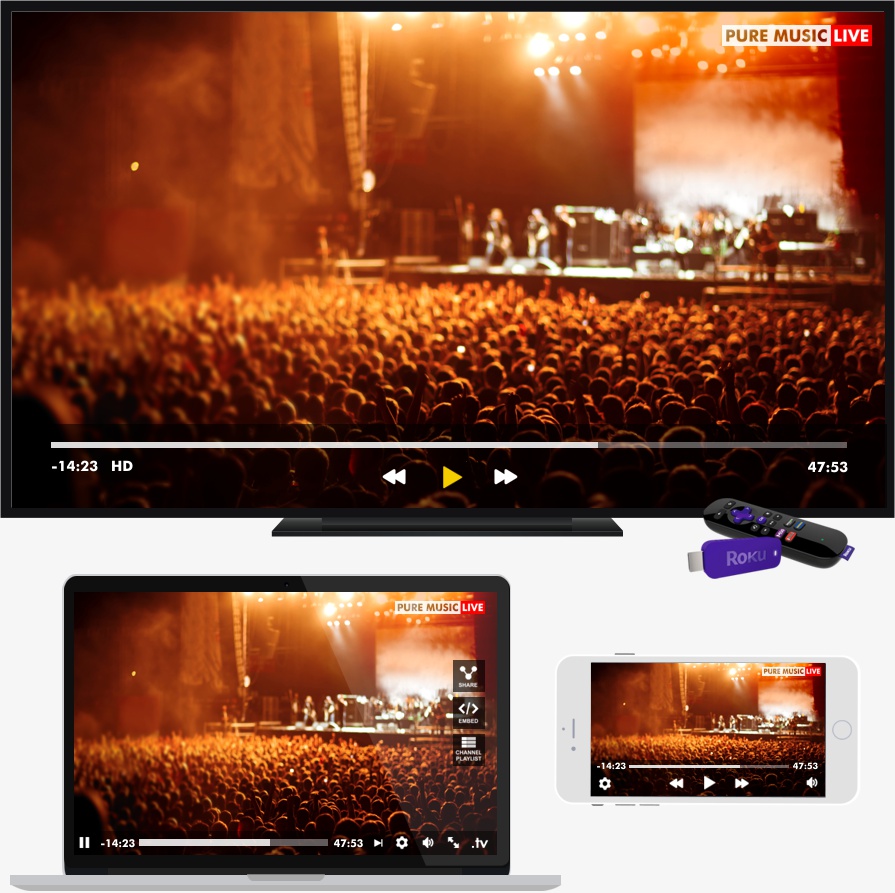 Stream your live-events from any location on the planet: from any auditorium, any sports venue, classroom, street, square or location.
1. Configure your live-encoder with our step-by-step manual, or download our recommended live-encoder software.
2. Schedule a stream-test with our live-encoder coaches. Lightcast.com will test your live-stream on all major devices and provide your encoder engineers with valuable feedback on optimization opportunities.
3. Create a Live Event in your Lightcast Media Cloud Account, configure and embed your Lightcast Live Player, or use a third-party player of your choice.
4. Ask Lightcast.com to connect your live-stream to all of your publishing properties including your websites, online media campus, mobile apps, OTT / ConnectedTV Apps and social accounts.
5. ...and voilá! Your live-stream is live everywhere - on every platform and every screen!
Your Linear Streams on EVERY Screen!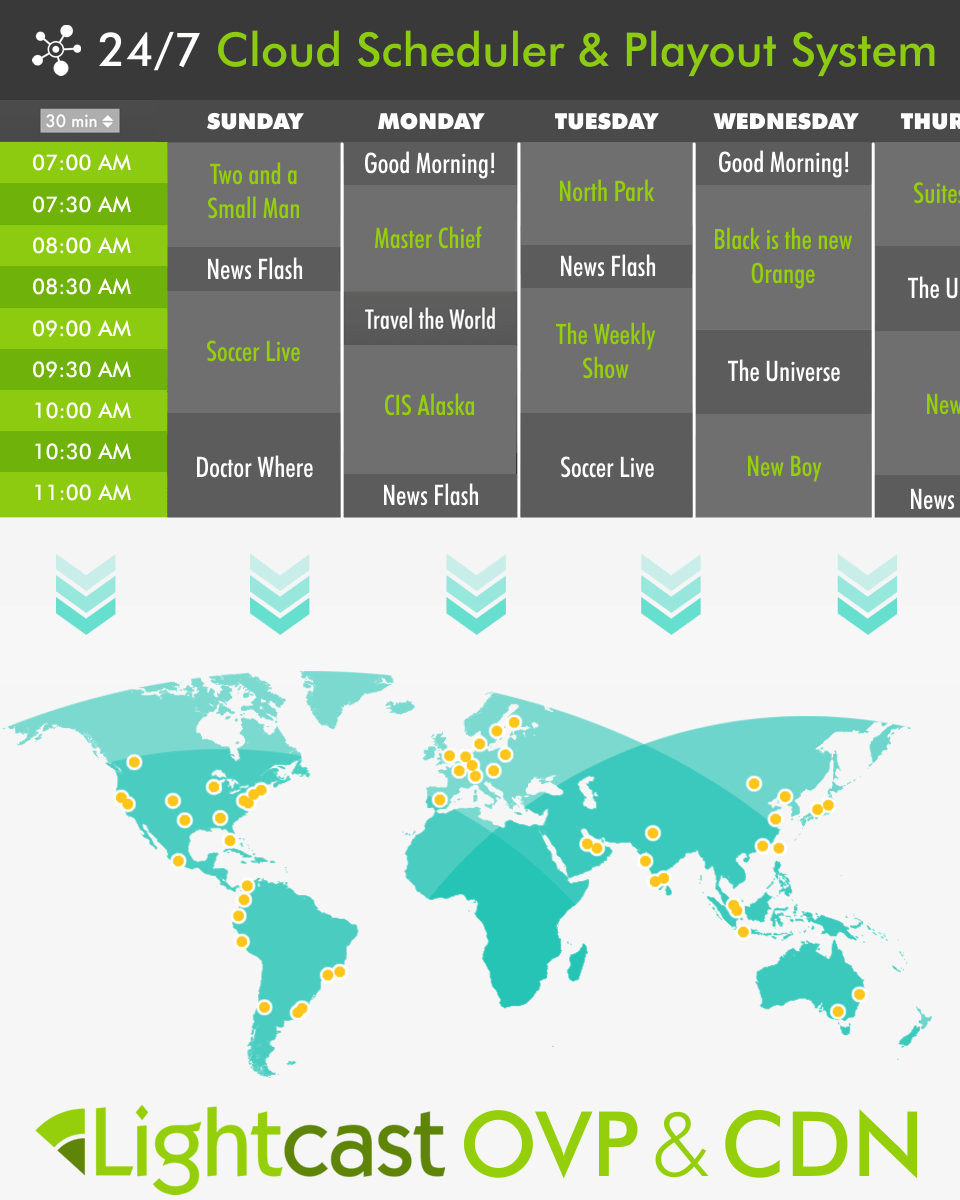 Lightcast.com Clients have access to a variety of LightcastOVP Tools to create and deliver linear (24/7) streams to all devices and screens.
Option 1: Ingest your own linear (24/7) stream to any of our CDN SuperPOPs and have it delivered to all your publishing properties: websites, mobile apps, TV Apps and social platforms. No matter the source: whether ingesting an existing satelite or cable channel, or connecting your playout system - you are in control of bitrate qualities and ad-breaks.
Option 2: Lightcast.com's innovative "VOD-to-LIVE" product: let Lightcast.com auto-populate linear (24/7) streams from your uploaded on-demand archives straight from VOD playlists.
Option 3: Lightcast.com's innovative "Cloud Scheduler & Playout System": drag and drop your uploaded on-demand assets into a schedule grid and use our intuitive interface to auto-fill scheduled ad-breaks with your ads.
All your linear streams will be delivered through our bitrate-adaptive, high-performance CDN with 72 delivery POPs worldwide - publishing your stream on any platform and device of your choice.
Your Live-Streams on EVERY Platform!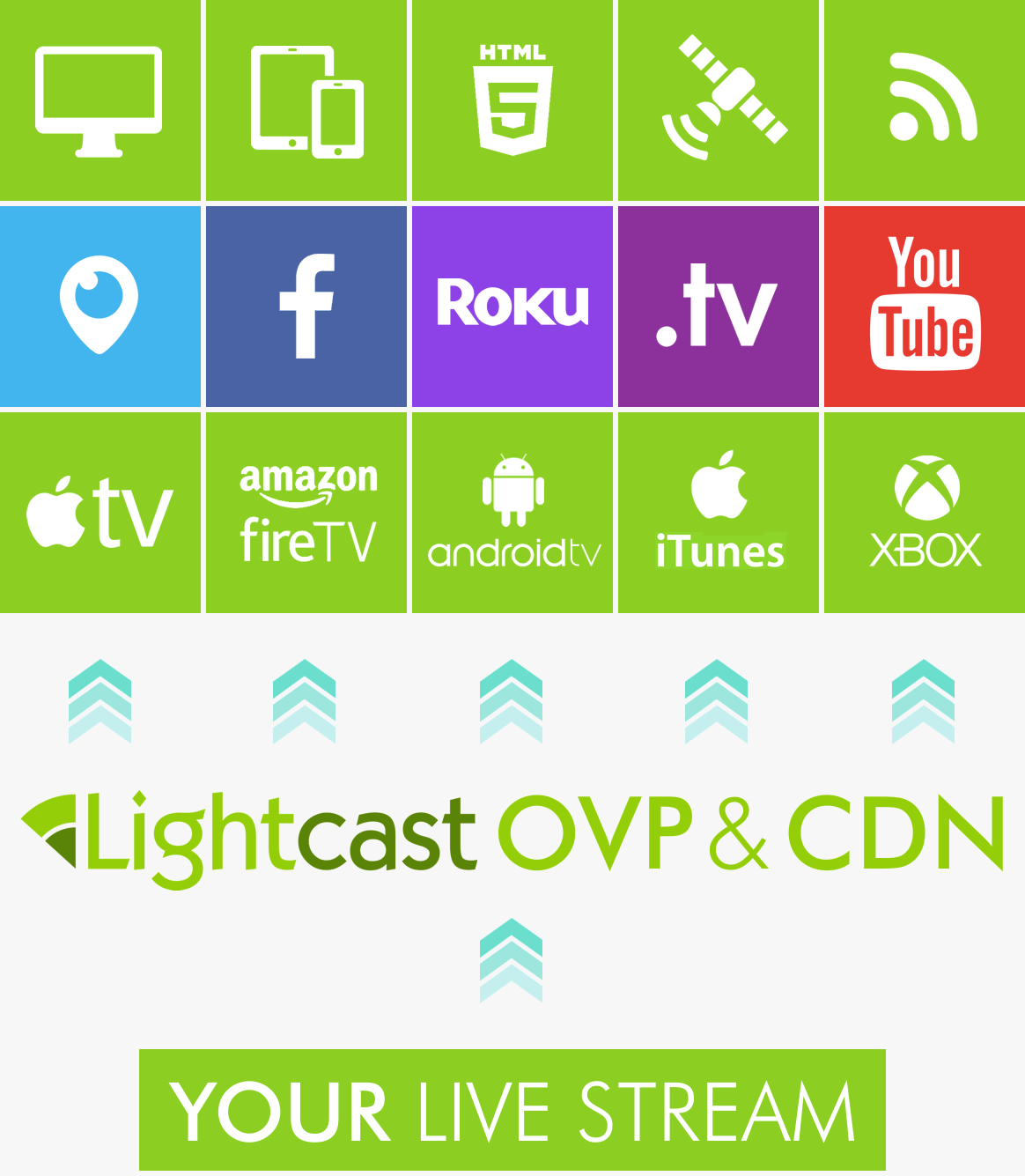 Instantly publish live-events and linear streams to all platforms!
1. Websites: embed our customizable live-players, use your own player or build dynamic content with the LightcastAPI on your websites.
2. Mobile: embed our responsive and device adaptive live-players or integrate your live-events and linear streams in your mobile apps.
3. OTT / ConnectedTV: integrate your live-events and linear streams into your TV Apps, or let us do it for you.
4. Social Platforms: instantly publish your live-events to Facebook Live, Facebook App or YouTube Live to capture additional viewers.
5. Online Media Campus: use your own, or take advantage of Lightcast's complimentary live-stream campus in your custom branding.
Live Encoder - Your Choice!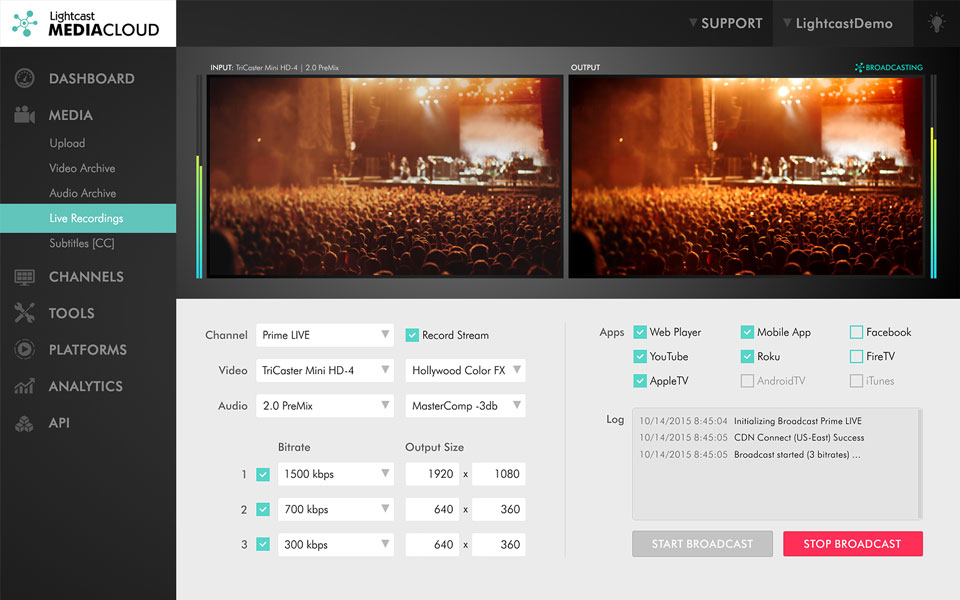 Use our official partner Wirecast - leader in software-based live-encoders, ask our Streaming Media Consultants about recommended hardware-encoders, or simply use the live-encoder you have been using before.
Just point your live-encoder to one of our many SuperPOPs (our high-efficient access points), add the secure stream-key and - you're LIVE! In any bitrate and resolution you want. Control your bitrates straight from your live-encoder and just watch your live-audience multiple over night as we publish your live-streams to all your websites, apps and platforms of your choice.
Lightcast.com Publishers have access to complimentary live-encoder coaching and testing.
The higher the resolution of live-streams - the more critical transcoding & number of delivery nodes become.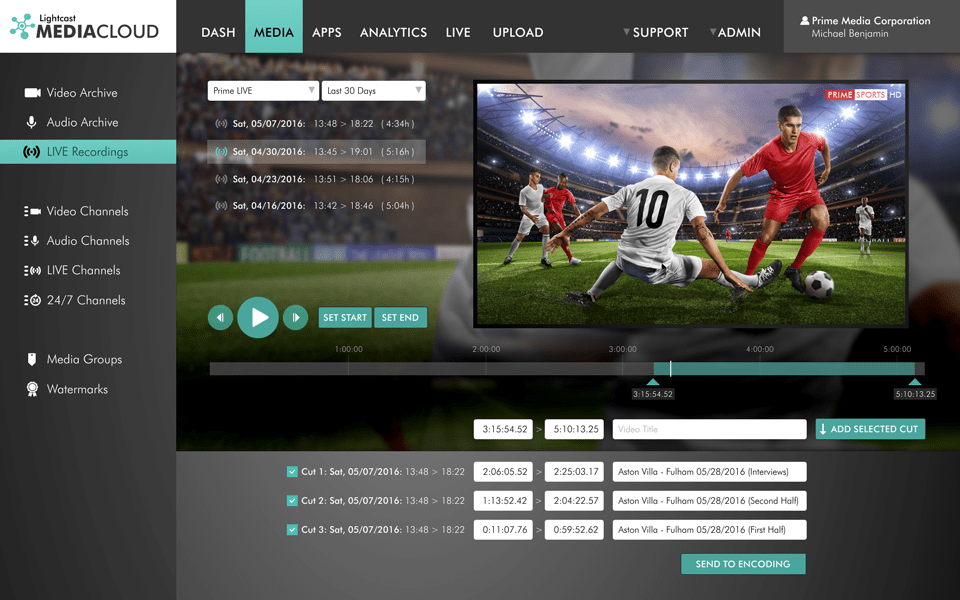 4K & TV Quality Streaming
In order not to lose viewers, all 4K content needs to be optimized for fast loadability.
At the same time, viewers who are unable to load or sustain a 4K version without re-buffering need to be able to load lower bitrate versions of the stream.
Multi-bitrate delivery via global CDNs is critical in order to build and sustain growing viewerships.