Leverage the tools in your Lightcast MEDIA CLOUD Account
The Lightcast MEDIA CLOUD is an advanced "Online Video Platform" (OVP) and "Content Delivery Network" (CDN). Its user-friendly Media Management System and a high-end transcoding service for instant multi-platform delivery, allows publishers to maximize their viewership growth. Maximum device compatibility and viewership growth is a strong-suit and focus of the Lightcast MEDIA CLOUD.
Leverage the multitude of tools which come with your Lightcast MEDIA CLOUD Account: Channel Managers, Archive Managers, Metadata Managers, APIs, DRM Services, Media Stats Center, Live Event Managers, Cloud Playout Systems, Live Recording Services, Publishing Automation and much more.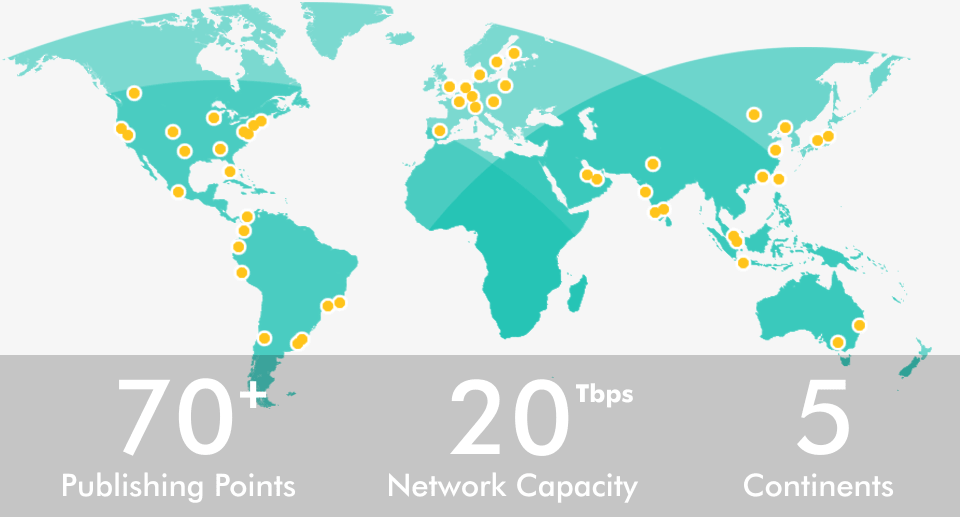 Meta-CDN with 72 Data Centers
Leverage the largest, high-performance CDNs on the planet. Deliver high-rez content to viewers around the world. Using the Lightcast CDN allows you to sleep in peace while your live- and on-demand content is being delivered to all viewers on all devices and screens. Over 100,000 streaming servers won't let you down.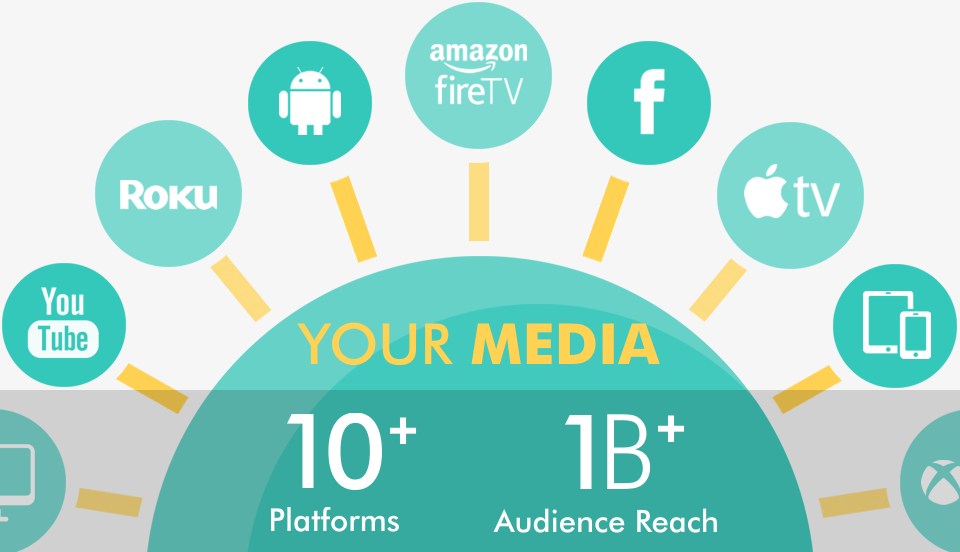 Multi-Platform Distribution
Our award-winning, user-friendly Multi-Platform Distribution System allows publishers to achieve instant distribution to all ConnectedTV, mobile and web platforms in a matter of minutes. Connect your existing websites and apps, or ask the Lightcast.com App Dev Division to build new websites, mobile apps or TV Apps for you. Publishing to more platforms, websites and apps automatically means reaching more viewers.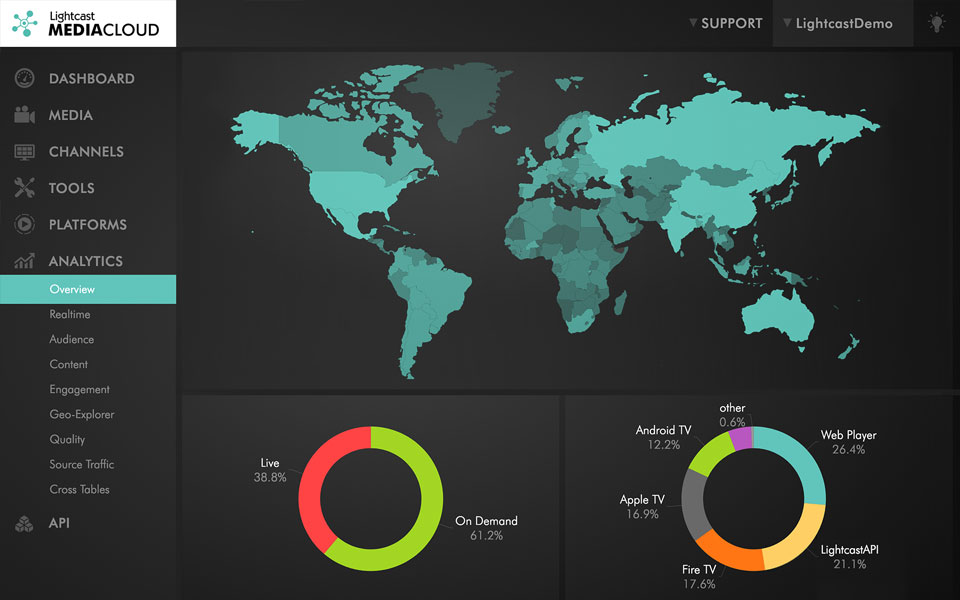 Media Statistics Center
Know your viewership to maximize your growth, impact and return. The Media Statistic Center allows you to track who is watching, from where, how long, from which device, on which channel and device, and provides you with tools for reports. Knowing your viewership allows you to refine your product, your offers, your conversion goals, your marketing strategies and is essential to understanding the impact and value your brand has.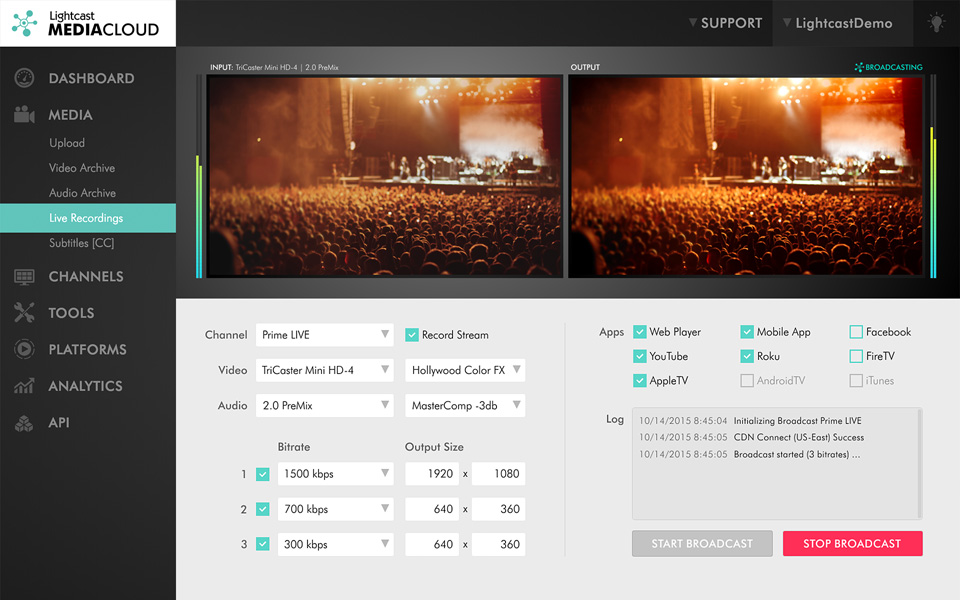 Live Streaming & Recording
Stream your live-events and linear streams in any bitrate and with any live-encoder of your choice. Utilize our experienced Tech Support for troubleshooting assistance on your hardware and software environment, and to help eliminate potential risks from the beginning. Stream, record, transcode, archive, publish your live-streams to your websites, mobile apps, ConnectedTV apps and social sites in any bitrate, multi-bitrates, SD, HD, 4K - any K!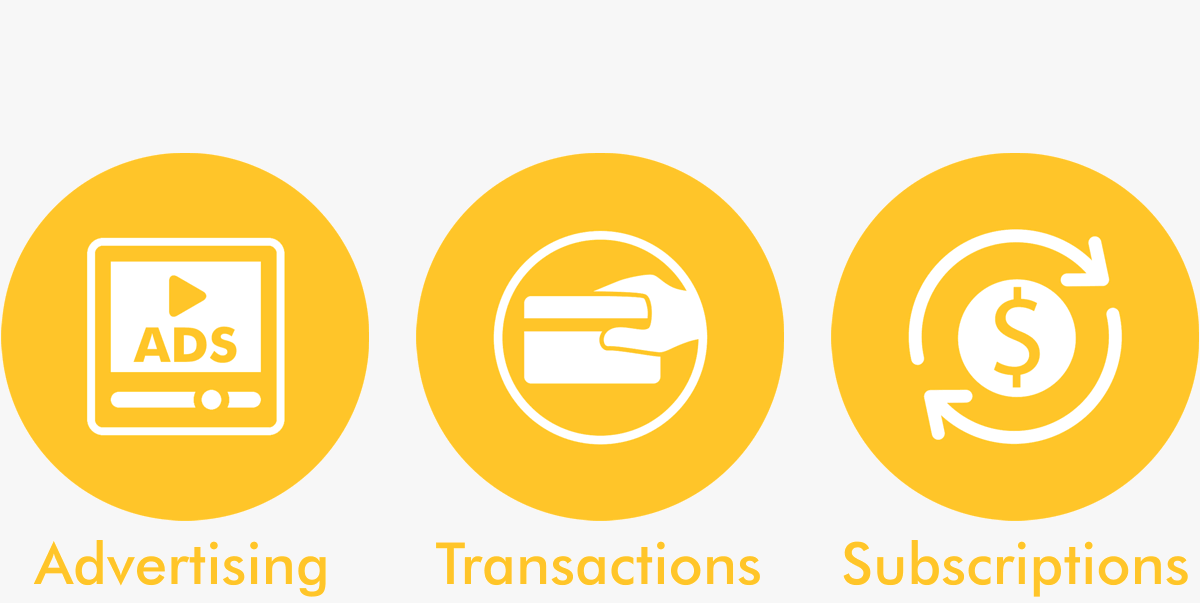 Monetize Your Content
Create residual revenue streams through integration of video advertising, by providing subscription offers to your viewers or by selling transactional streaming products. Make sure to keep overhead-costs low in order to maximize your profit margins. The LightcastOVP offers fully integrated monetization services which allow you to achieve exactly that: building fast-growing revenue streams by leveraging your digital media.
Uploading, transcoding, managing, publishing, delivering and monitoring all your live- and on-demand media has never been easier. Request a live demo account today!
Just researching? Here are a few questions for you:
Have you ever considered to expand your reach and viewership beyond your website visitors by publishing across the major ConnectedTV, social & mobile platforms?
How do you get all of your on-demand archives transcoded into all bitrates and file formats required by the multitude of publishing platforms?
How do you automate your publishing across multiple platforms in order to save yourself numerous hours of weekly uploads and embedding to multiple properties?
Where do you build a database of metadata which can be used to automate feeds and dynamic content population across all of your publishing properties? (websites, mobile apps, social apps, TV apps)
How do you manage and publish your live-events, including metadata and count-downs, to all of your websites, social sites, mobile apps and ConnectedTV channels - all at the same time?
How do you monetize your content with ads, subscriptions or pay-per-view and ensure that you are not investing all your funds and energy into producing great content which you leave to others to monetize for their gains?
How do you ensure that the viewership you are building remains a fast growing asset on your books instead of adding equity to other companies?
For a complete check-list for your research and strategy development - request a free consultation with one of our Streaming Media Consultants.