Support systems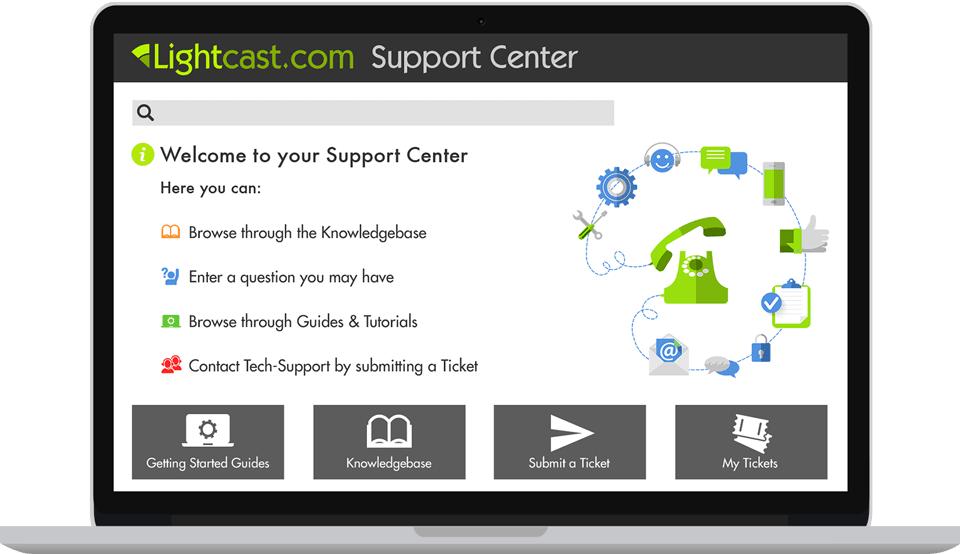 Lightcast.com makes professional, high-end OVP, CDN and Online Marketing Services affordable to everyone. In order to keep prices low, Lightcast.com provides easy-to-learn interfaces and management tools in client accounts. This part of your Lightcast.com Service Package is called "Software as a Service" (SaaS).

Supported by the support center:
All questions around the software as a service – such as how to use your Control Center, Social Media Management Desk, or the various parts of the Online Media Management System in your Lightcast.com Account is supported by the "Support Center" under support.lightcast.com . Tutorials, manuals, step-by-step guides, knowledge-base and FAQs are the resources for self-education on "all-things stream, social media and Lightcast.com Control Center".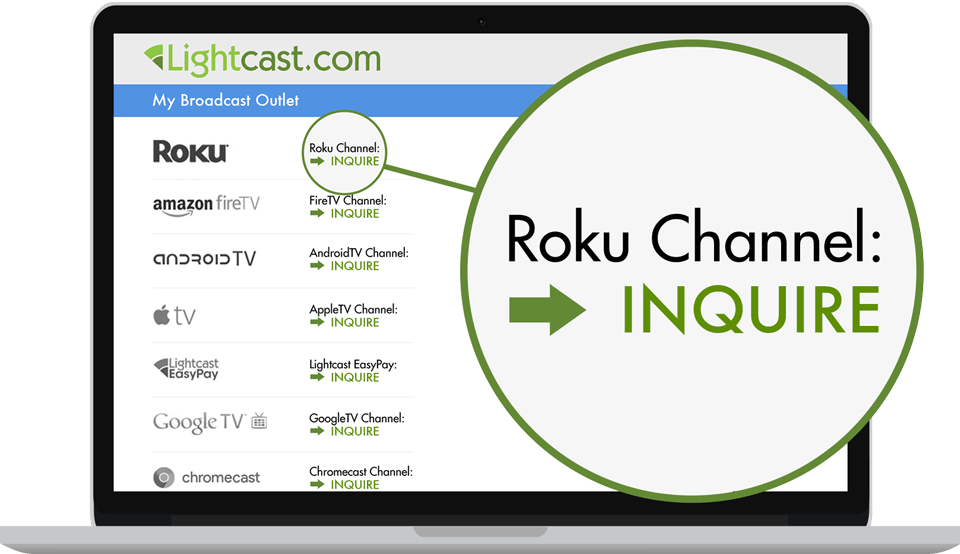 Supported by email:
Aside from self-managed digital media and social media publishing systems, certain Lightcast.com Service Packages also include specific development projects, such as the development of publishing/broadcast outlets. These publishing properties are websites, apps or feeds, manually programmed/built for you. Certain Service Packages include a specific range of such custom-developed publishing properties, which each client has to inquire on whenever ready to take advantage of them.On top of that, additional website- and app-development services can be ordered.All web- and app-development projects are supported through your Lightcast.com Control Center, the Lightcast.com Support Center, and by Customer Care via email support.
Supported by phone:
The leasing-contract for the LightcasterXD, Lightcast's own live-stream-encoder, includes phone-support.

Support request not covered by the discounted Service Packages:
Questions on "How to use your Lightcast.com Control Center". For this purpose various resources such as Tutorials, Guides, FAQs are provided in the Support Center; How-to-Use Webinars for Clients are provided.
Hardware or software setup, configuration and issues (such as your own live-stream-encoders, local 24/7 playout systems, local network issues, routers, computers, camera and mixer connections, audio levels, ISP related issues, graphic design questions, satellite or cable-TV equipment, how to use Roku boxes or other personal TV-hardware, etc…).
Content Development such as audio and video production, creation of photo/image/graphic content, writing of blogs, articles, tweets, newsletters.
Web- and App Development outside of the specified Scope of Service of your Service Package.
Business Plan/Business Development: product development, pricing, sales & support of your company's products and services, feasibility studies, market research.
Is personalized support available for the above questions and needs? Yes! Absolutely! Discounted consulting packages are available for the most common consulting needs, such as configuration/trouble-shooting of your own hardware- or software-live-encoder, 1-on-1 workshop on your Lightcast.com Control Center and (social) media setup and other frequently requested consultations. Please check out your Control Center for special offers and discounted consulting packages!For more extensive "Signature Business and Tech Consulting" - please inquire on a personalized quote.