How It Began - Customer Requirements & Goals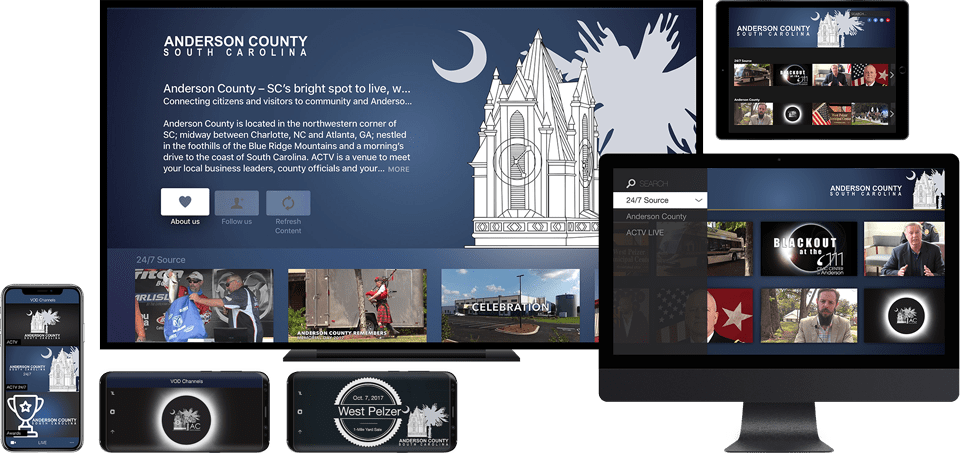 Anderson County is a pioneer and role-model in the area of utilizing new media technologies for communication within their local communities and between official state institutions and residents.
When Anderson County first approached Lightcast.com it was clear that their leadership was on the forefront with a cutting-edge plan to utilize OTT / ConnectedTV and cloud-based managemend of streaming media. Delighted to encounter such a forward-thinking political leadership, Lightcast.com quickly contributed ideas on how to execute on the plans and achieve the desired goals. New OTT apps were quickly developed and the Lightcast Media Cloud deployed to dynamically upload, publish and manage both VOD and LIVE Channels for the County's officials, law enforcement and educational institutions. Leveraging the Media Cloud to publish on-demand and live-stream media to numerous connected applications, allows the County keep all parties in the loop on important developments, send out important news and alerts, and to provide a highly valuable service to all residents.
The highly attractive and efficient communication model of Anderson County is a picture-perfect example on how forward thinking communities and leaderships can leverage new media technologies and can be replicated easily across the Country.
What We Did
Development of a custom-branded, native Roku Channel
Development of a custom-branded, native FireTV App
Development of a custom-branded, native AndroidTV App
Development of custom-branded, native AppleTV App
Provisioning of 24/7 scheduler, allowing Anderson County admin staff to drag and drop uploaded VOD assets into a calendar, generating a scheduled TV program without technical knowledge
Cloud-playout, generating bitrate-adaptive streams from the 24/7 schedule in all required formats for multi-platform publishing on OTT and web
Provisioning of feeds from cloud-schedule 24/7 stream for ingestion into cable network as a local cable TV channel available with cable TV subscriptions in the Carolinas
Seamless workflow automation of upload, transcoding, VOD archiving and publising, scheduling, 24/7 linear stream playout, simultaneous multi-platform OTT publishing via Lightcast OVP and CMS
Results It Produced
Providing an important value-add to residents of South Carolina
Providing a new on-demand and live communication channel to community facilities, townhalls, schools and law enforcement

Providing a real-time communication channel for emergency alerts
Creating a brand new linear 24/7 stream in the cloud for publishing to OTT / Connected Television and Cable Television
Provisioning of digital, cloud-managed media content as a feed to local cable channels