How It Began - Customer Requirements & Goals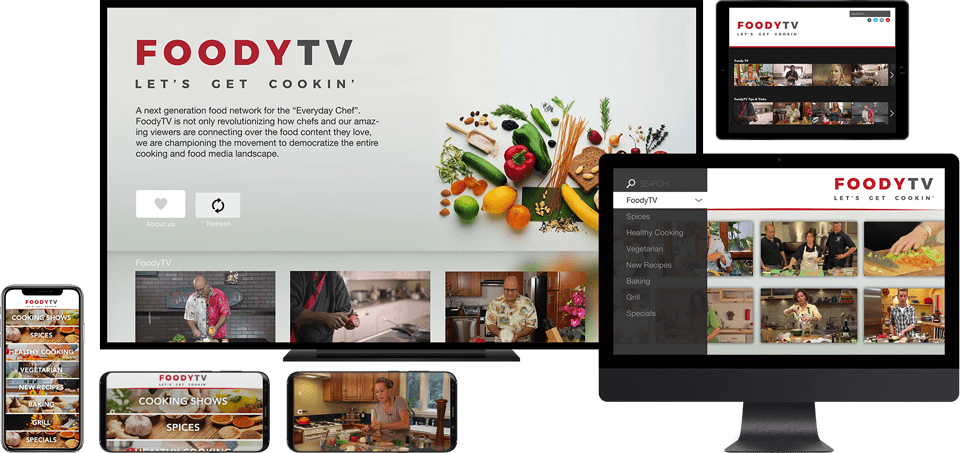 When Cultivate Ventures contacted us in 2014 about launching a new Food Network entirely on streaming media online and on OTT, there were only very few TV networks dedicated to food and cooking available on OTT. With Lightcast's prior experience in both OTT solutions, and with cooking content in particular, it was a great fit from the start and a pleasure to work with such a cutting-edge team like FoodyTV's leadership.
Very quickly OTT apps were developed in FoodyTV's branding and launched in the most popular TV App Stores.
What We Did
Development of a custom-branded, native Roku Channel with full Lightcast OVP & CMS integration
Development of a custom-branded, native FireTV App
Development of a custom-branded, native AndroidTV App
Design of all OTT Apps in FOODY TV corporate design for consistent Corporate Identity of all OTT Apps across all platforms
Provisioning of Lightcast CMS for real-time upload, management and publishing of over 600 VOD assets with weekly uploads of new episodes
Ingestion of linear 24/7 Television Stream via Lightcast OVP & CMS for instant multi-platform publishing
Cost-efficient media delivery of linear stream and on-demand archives via Lightcast CDN service
Friction-free and cost&time-efficient end-to-end solution and workflow automation through use of Lightcast OTT App Dev Service, Lightcast OVP and CMS, and Lightcast CDN Service
Setup of Ad Server for serving of priority-based and targeted internal ad-campaigns, direct advertisers and sponsors, as well as integration of ad feeds from external video ad-networks
Results It Produced
Building new viewerships across web and OTT
Value-Add to existing viewerships
Development of new revenue streams
What FoodyTV Says
"The technology, support, and strategic advice we've received from the team at Lightcast has enabled FoodyTV to grow to the point we are to date.
As our business needs continue to change it's great to know we have a partner to help each step along the way.
There are many OVP vendors out there, but there are few that operate like a business partner."
Alistair Potts, CEO FoodyTV