How it Began - Customer Requirements and Goals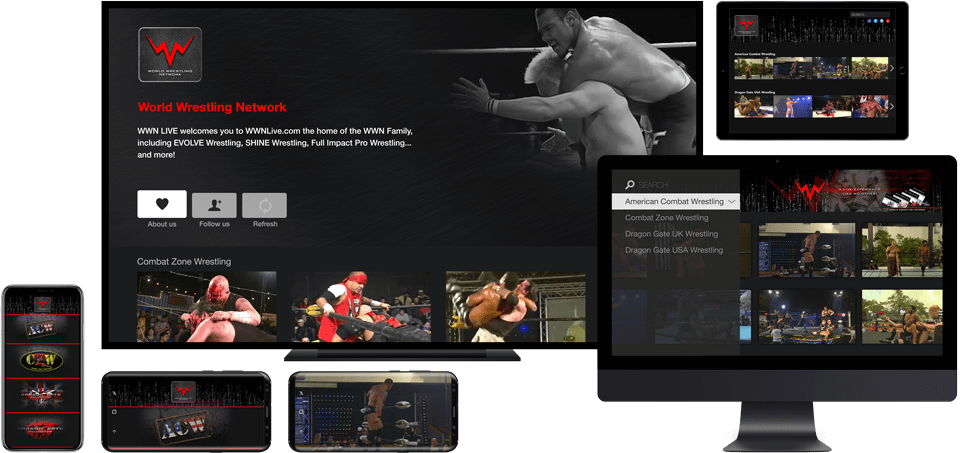 WWNLIVE onboarded with Lightcast.com during Q4/2013. The initial requirement was to provide a robust streaming service for live-events and on-demand delivery and to rebuild the pay-per-view web interface for greater scalability.
In the process Lightcast.com built, launched and hosted a new website for WWNLIVE.com, with online merchandise store, pay-per-view store, event system, user registration and account system, media archives and live-stream areas - all fully integrated on the WWNLIVE.com website.
At the same time, Lightcast.com built and launched WWNLIVE's Roku and FireTV App and developed APIs to load PPV purchases of user accounts and subscription-based content on Roku sign-in.
After several years of continued success with PPV and merch sales, the decision was made to also roll out a subscription offer. For one year handing off live-streams and subscription monetization to content-syndicator flow sports was tested, but did not prove to be a sustainable long-term solution despite looking promising at first glance.
It was decided to roll out WWNLIVE's own subscription offer on its own website and TV Apps instead, under the name "Club WWN". The new Club WWN subscription offer uses the Lightcast EasyPay Multi-Platform Subscription System for authentication on web players (such as on www.wwnlive.com ) and on mobile, WWNLIVE's facebook app, and TV Apps such as Roku and FireTV. The advantage was the extremely low setup cost and fast time-to-market, the multi-platform experience for subscribers, and the simple rev-share system in WWNLIVE's favor.
During Wrestlemania in 2017 it became clear how fast WWNLIVE's viewership was growing and the need to expand website hosting and optimize for future growth became highest priority to respond to. Lightcast.com installed additional server power and redundancies for the website and, in addition to automated software monitoring, provided additional human monitoring and 24-hour support for major live-events.
And over all these years WWNLIVE's thriving fanbase and passionate community kept on growing, purchasing PPV tickets, watching live and on-demand on web, mobile and OTT, and subscribing to Club WWN memberships continuously.
What We Did
Development, launch and approval mangement of native OTT / ConnectedTV Apps for Roku, AppleTV and FireTV
Development, launch and hosting of WWNLIVE.com with multi-media experience, PPV, online shop, events system and subscription system
Provisioning of customized Lightcast Web Player for dynamic integration on WWNLIVE.com and event landing pages
Bitrate-adaptive OTT Live-Streaming of large wrestling events around Wrestlemania, WWNLIVE's shows across the United States, Japan and other overseas regions, and events in cooperation with WWE
Provisioning of Media Management System for upload, transcoding, management, publishing of on-demand archives and live-streams
Provisioning of Media Management System for management of metadata and artwork
Responding to viewership growth and expansion needs in the area of CDN usage and hosting of the websites
CDN Delivery of live-streams and on-demand content, bitrate-sensitive and adaptive with geo-restrictions for content with rights for Australia and for international delivery
What WWNLIVE Says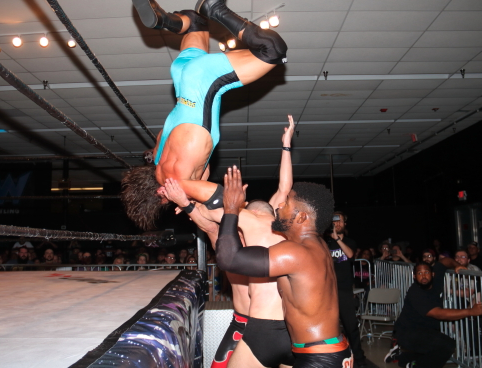 "My company, WWN, Inc., re-entered the streaming industry in 2011 and for the first couple of years we were limited to the features that our former developer & CDN had available. Our growth was stifled due to third party limitations.
In 2014 we made the big decision to transition our entire online business platform to Lightcast and haven't looked back. Their developers & CDN are second to none. We currently offer a Roku App, an Amazon Fire TV App, an Apple TV App, an Android TV App, and a Facebook App, as well as a monthly subscription service, all through Lightcast.
Moving to Lightcast was the best decision that we have made as a company and have experienced record revenues year-after-year because of it. The professionals at Lightcast are the most experienced, knowledgeable, and proactive in the industry bar none and I couldn't recommend them any higher."
Sal Hamaoui, Founder & CEO of WWNLIVE, and legend in the world of wrestling globally
Increase of online viewership
Brand value growth through exposure to new audiences through OTT / ConnectedTV and expansion of publishing properties
Development of a solid and long-term sustainable revenue model through diversified revenue from PPV and subscription purchases of web and OTT viewerships
Continuous growth through diversified revenue strategy encompassing merch sales, PPV ticket sales and subscriptions