Lightcast.com - Voted One Of The Most Influential Streaming Providers
November 3, 2020
In the midst of this year's fluidity, Lightcast.com was again voted one of the "Top 50 Companies That Matter Most In Online Video" in 2020.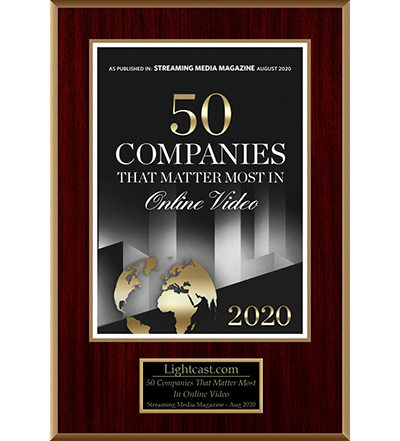 We are grateful to be trusted by so many great companies and organizations, collectively reaching audiences with over 100 Million viewers around the globe.

Having launched the App Builder in 2020 - an innovative interface, part of the Lightcast Media Cloud Management System, for real-time management of TV Apps, Mobile Apps and WebApps.
New distribution deals with major Podcast Platforms and TV manufacturers on behalf of our customers have yet increased the growth possibilities for media publishers.

New and improved Pay-Per-View interfaces and controls enable event organizers from Sports, Music, Theater, Conventions and Schools to substitute revenue losses and build new, additional revenue streams with virtual experiences and streaming evens for their viewers, followers, customers, members and fans.

And the roadmap for new releases is loaded! Stay tuned for amazing new features and extensions to the Lightcast Media Cloud.

Let us know how we can help you grow and monetize new audiences locally, nationally and worldwide.

Talk to you soon and happy streaming!

Your Lightcast.com Success Team