Best Practices To Increase Viewership & Video Revenue
About six-in-ten video consumers 18 to 29 (61%) say the primary way they watch television now is with streaming services delivering content through internet, compared with 31% who say they watch via a cable or satellite subscription and 5% who mainly watch with a digital antenna, according to a Pew Research Center survey.
How Can Lightcast.com Help You Better Monetize Video?
Since the dawn of television, the modern home and personal media has relied on video. From the rise of broadcast television to the eruption of cable networks video has continued to increase its share of the content market. And in todays market, video content continues to grow in popularity – especially with content providers ability to produce higher quality content content at a lower cost. This now allows content providers to be increasingly niche and to cover more and more specific interests.
But for years, content providers were dependent on a handful of networks to get their content in front of an audience. For those lucky few with the money and access, it was a godsend; for everyone else who dreamed of being part of those creative endeavors, it was usually a dream that went unfulfilled.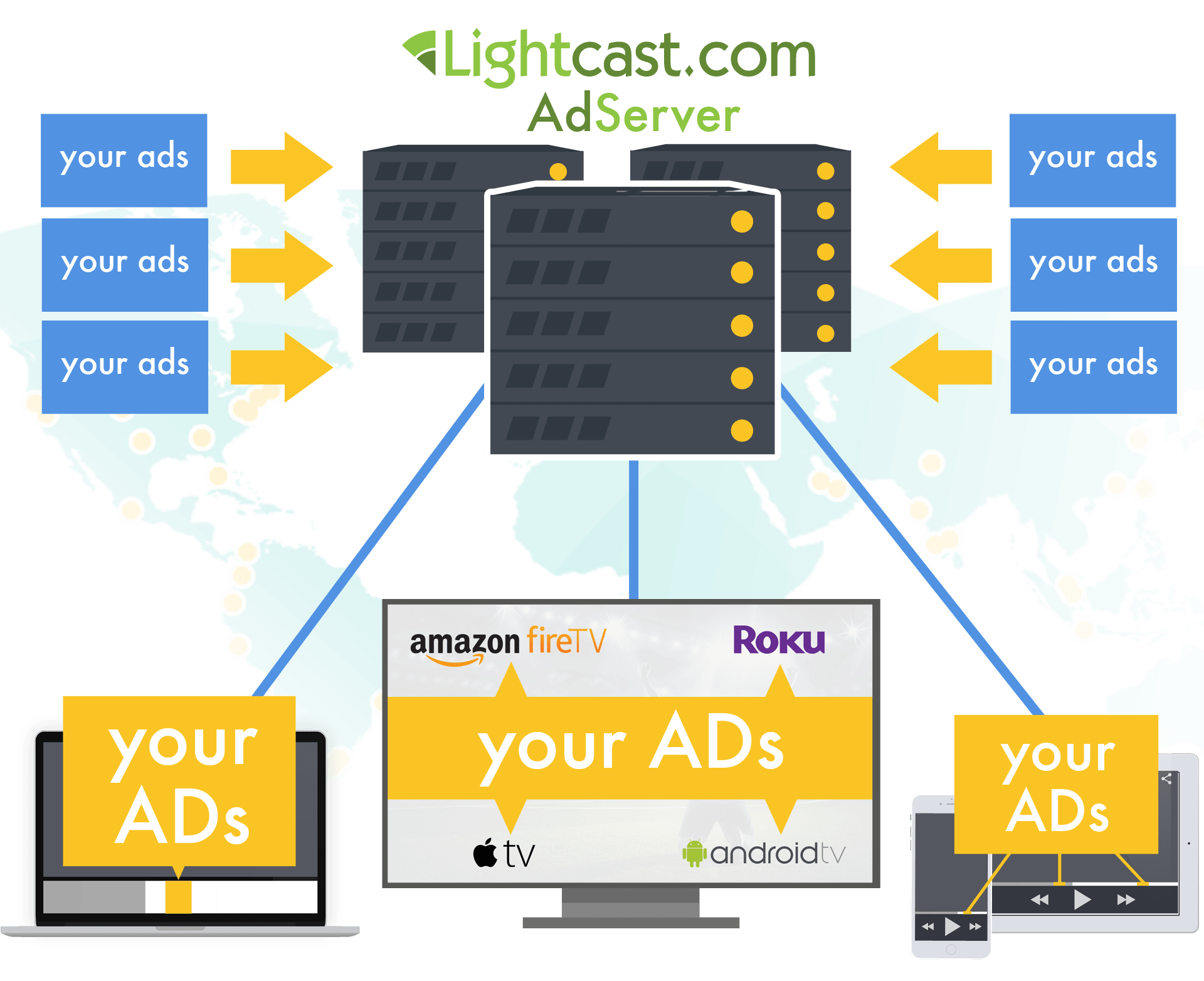 The rise of YouTube gave power to the small-time creator with nothing but a camera and the desire to create content. YouTube was an early iteration of what we call OTT, or Over The Top technology—it used an existing distribution network (the Internet) as a way to share media through its own technology (its website). Soon, bigger businesses latched on to OTT's potential; Netflix, for example, used the idea to share a massive library of movies and television shows through its streaming service, to the point where its profits have allowed it to become a major content creator in its own right.
Over the last decade, OTT apps have followed the rise of mobile technology and televisions designed for Internet access as an increasingly important way for content providers to stream their product directly to customers. Though major companies are jumping on-board with this idea, the true power of an OTT app lies in its democratization of distribution. For existing content production companies, businesses, non-profits and niche providers who have the ability to create quality content, network quality distribution is now easily accessible. Content providers who leverage OTT and mobile apps can now reach a global audience with a tiny fraction of the resources we usually associate with monolithic enterprises such as broadcasting companies. Content providers can now deliver their product directly to consumers through their own distribution network across multiple platforms simultaneously.
However, bringing such an OTT strategy to life is where many content creators and businesses struggle. For all their extraordinary expertise in video content creation, they have little or no experience technically distributing content and then executing the right strategy to grow their viewership.
This is where Lightcast.com comes in. Lightcast.com's business is dedicated to creating and deploying OTT apps that will put a media publisher's work wherever they need it to go, and supplies the content management systems required to make the most out of your content.
Five Ways to Launch OTT Quickly and Effectively
There are five main ways that Lightcast.com helps publishers launch apps for television and mobile quickly and efficiently:
1.) An extensive app template framework. Lightcast.com has app templates available for every app store and every platform. This is critical to the speed with which Lightcast.com can get a publisher's content out into the world. A publisher who hires their own person or team will need to wait for them to create the foundation for the app the publisher will eventually use, and no matter how talented they are, this will take time.
Lightcast.com bypasses that wait with templates that can be customized to fit the needs of the company, giving every publisher their own unique app within a framework that ensures reliability and faster turnaround in getting the job done. Whether a publisher is looking to spread their content via Google Play, Roku, Samsung Smart TV, or any other app-based content system, Lightcast.com is set up to get their content on the platform as quickly as possible.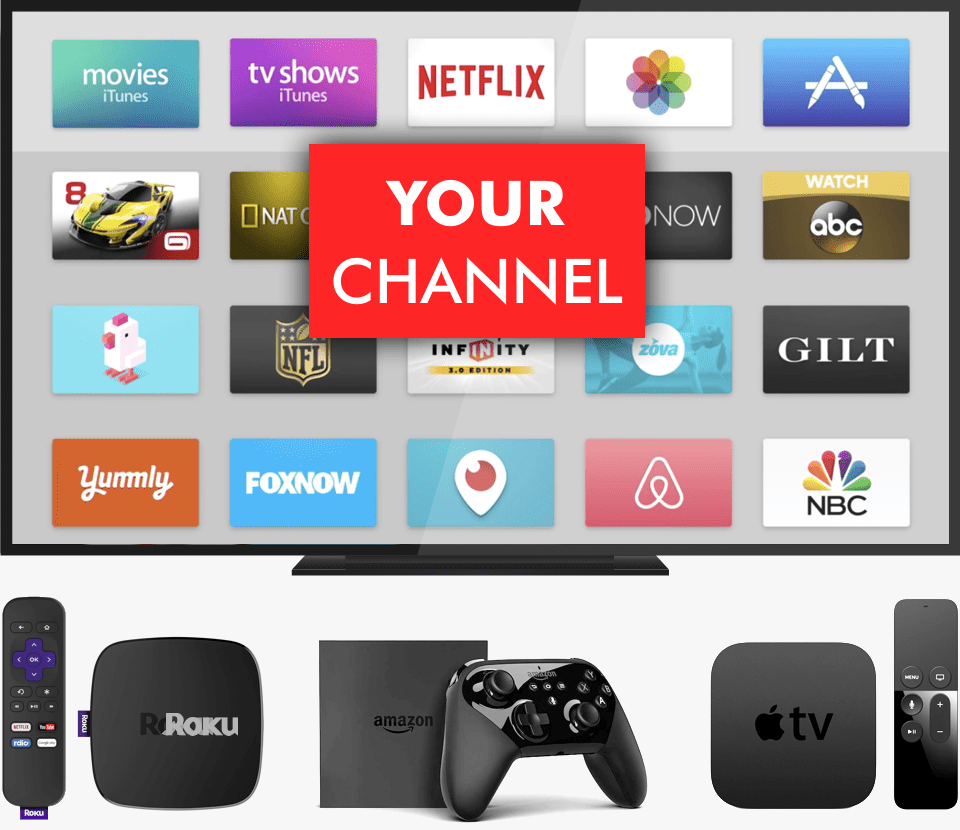 2.) A substantial library of apps already created for every major platform. Experience matters in this job, as it does any time your business makes a hire or chooses a company to outsource with. Having worked with all the platforms a publisher might want to use means Lightcast.com is never learning as they go or making things up as they go along. Lightcast.com knows what's needed and how to deliver it.
Just as important as the knowledge to create a stable product, however, is the knowledge of how long a task will take and at what cost. An inexperienced company can make their best guess as to what resources and timelines will be needed to create an app for a platform that's new to them, and they'll make that guess confidently, but you're still left crossing your fingers that they'll come through. The experience Lightcast.com brings to your OTT strategy means that you can count on our estimates for budget and timeline, which ultimately helps your business.
3.) Cost efficiency. As mentioned above, Lightcast.com has a reputation for efficient work and the ability to stay within an agreed-upon budget. This has allowed numerous media startups and non-profits to leverage their content and release apps across all platforms much more quickly and inexpensively than would otherwise be possible.
4.) The Lightcast.com Media Cloud. Lightcast.com's fully integrated content management system (CMS) gives publishers total control over their content. Once the app is designed and deployed, the publisher is able to upload and manage everything through the CMS.
And that does mean everything—Lightcast.com is here to help you share your content with the world, and it's your choice what to do with the platform they offer. All of your assets, from critical content like on-demand video and audio archives to smaller items such as images, associated metadata, subtitles, and caption files are managed through the Lightcast.com Media Cloud. Decide what content will be distributed via linear streaming and which through cloud-based streaming and the Lightcast.com Media Cloud will help you launch it. Control your VOD-to-live and live-to-VOD channels, recording, and set up when everything airs via the drag and drop scheduler.
No matter what a publisher might need to do with their content, Lightcast.com's Media Cloud provides the ability.
5.) High quality customer service. Lightcast.com provides customer service that is top-notch and happy to assist. The company's mission goes beyond fulfiling a contract; guiding publishers along the way to a broader footprint in the world, step by step, is one of our core goals.
For a company filled with people who have been mainly focused on content creation, the launch of a new OTT app is often as stressful as it is exciting. This isn't making a YouTube account and uploading some videos; this is creating a new app with your company's name on it, with all the weight and prestige that carries. Your company will rely heavily on its media reach once this process starts; if there's anything about the process you don't understand, you want to have somebody to call for support to get or keep you on track.
Whether you're working out the best ways to use your new app, upload and manage content, collect and maximize the value of your content's metadata, or anything else connected to Lightcast.com's service to you, we're here to assist as best we can.
About Lightcast.com
Lightcast.com has a decade of experience in OTT app development; having pioneered OTT app development, a publisher would be hard pressed to find a better firm for outsourcing their app development and monetization goals. If you'd like to find out more about app development for your video content, contact us today.