What Is OTT (Over-the-Top), What the Future of OTT Looks Like, and How Companies Can Monetize It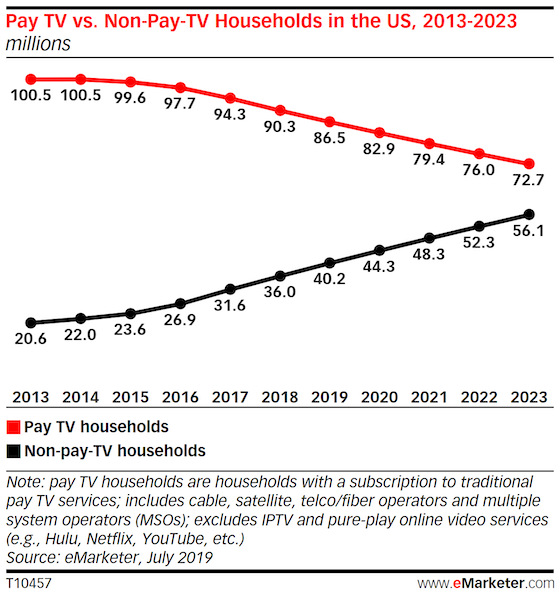 The definition or meaning of OTT "Over The Top" is video and streaming media provided over the internet without a subscription to a cable or satellite provider. Most OTT providers have their own website or app such as Roku, Fire TV, Android TV, Apple TV, iOS mobile app, or Android mobile in order to give access to their OTT content. Cord-cutters are switching from the traditional cable or satellite TV service to OTT TV at a fast pace, and will likely outnumber traditional TV service in the near future. (emarketer)
OTT content can be viewed with many types of devices including tablets, mobile phones, smart TVs, set-top boxes (Roku, Apple TV, Nvidia Shield, Fire TV), gaming consoles (PlayStation 4, Wii U, and Xbox One), and desktop and laptop computers, while the majority of other users use the web to access OTT content.
Important Things To Consider Regarding OTT
As of 2018, Android and iOS mobile device users make up almost half of the total OTT content streaming audience. (Fortune Business Insights)
After mobile devices, desktop and laptops make up most of the other OTT devices. (Fortune Business Insights)
OTT is growing in the United States. The Number of OTT-Only U.S. Homes Has Tripled Over the Last 5 Years. (AdWeek)
OTT is growing Internationally. The global OTT market size was valued at $97.43 billion in 2017, and is projected to reach $332.52 billion by 2025, growing at a CAGR of 16.7% from 2018 to 2025. (Allied Market Research)
Additional revenue can be added to a business by streaming OTT content.
Roku is the leading set-top-box provider for OTT in the United States and Canada. (Ampere Analysis)
There is room for more growth in set-top-box apps such as Roku. 35.8% of Americans and Canadians still don't have a non-mobile streaming device. (TiVO)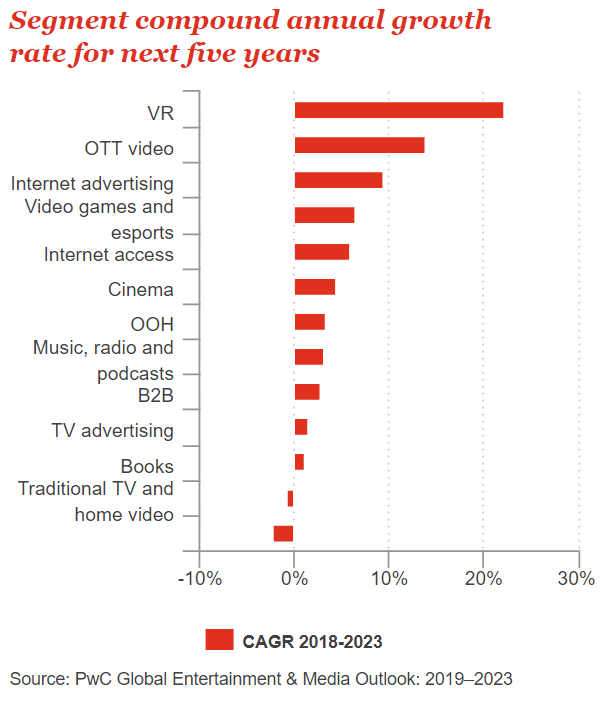 What Kind of Content is Used in OTT?
OTT content includes:
Audio.
Video.
Other media content delivered over the Internet.
OTT Video Growth
Over the next five years, digital revenue will continue to make up more of the industry's global entertainment and media income, because of large gains in Internet advertising and data consumption. Mobile devices will lead the way in that digital revenue. (pwc)
The OTT video segment will be near the top of this growth rate. (pwc)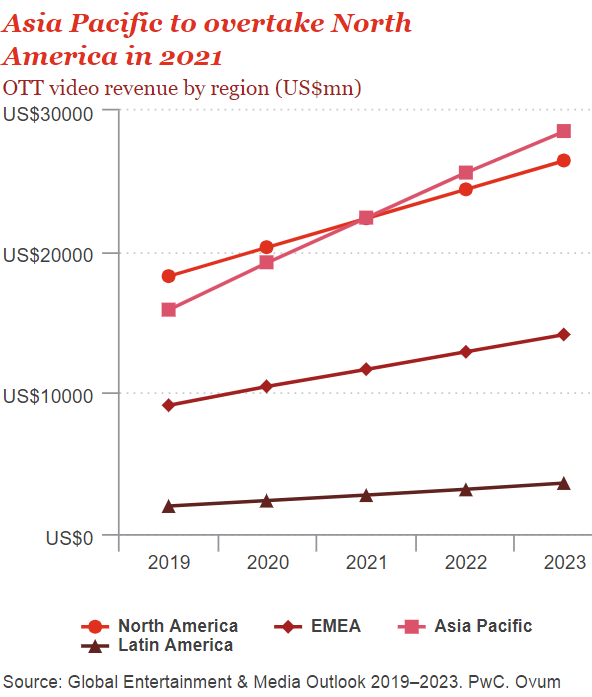 Asia Pacific's OTT Video Revenue Growth Will Surpass North America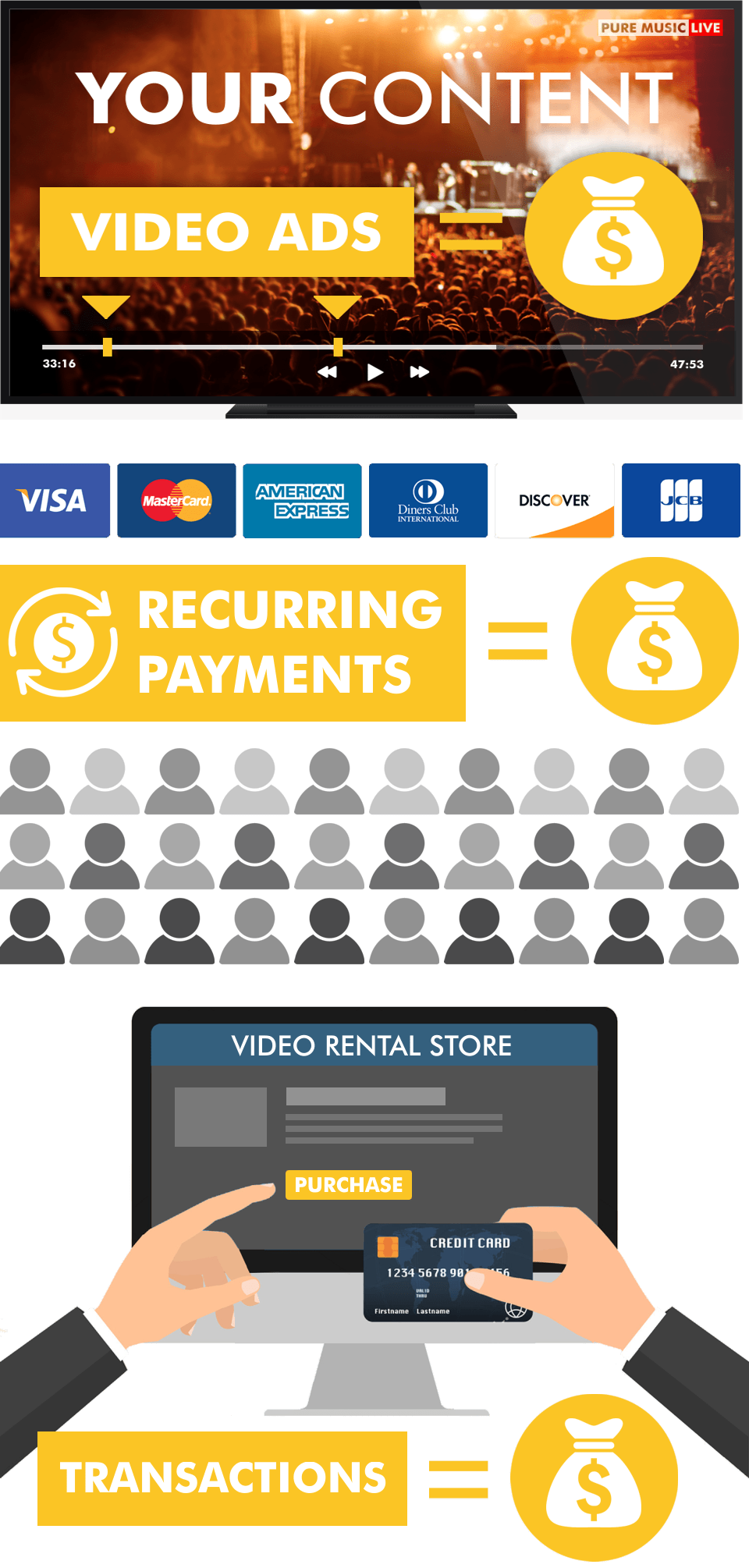 Types of OTT Monetization
There are a variety of ways that companies can take advantage of the growth in OTT and monetize it which are all covered in our previous article "What Are SVOD, AVOD, and TVOD?":
Examples of SVOD include Netflix and SlingTV.
Examples of AVOD Include The Roku Channel, Tubi, iMDB's FreeDive, Popcornflix and Crackle.
Examples of TVOD Include Amazon Prime Video.
Recent Lightcast OTT Webinars
If you would like to learn more about OTT, please see our webinars on a variety of OTT topics below:
Conclusion
After considering all the facts and stats we've mentioned regarding the economic impact OTT has now and will have in the future, it is important for businesses to take advantage of OTT. OTT is growing at such a fast pace internationally with Asia Pacific leading the growth rate. For this reason, companies would be wise to capitalize on this by increasing their monetization strategies in the OTT market.
The OTT monetization strategies SVOD, AVOD, and TVOD are each different in how they do it, but the primary goal of each of these is to generate revenue from streaming content.
Want to learn more about Lightcast's AVOD, SVOD, and TVOD services, or get a free 30 day trial of Lightcast's award-winning Media Cloud- Live Streaming Platform, Online Video Platform, and Media Management System that gives you the ability to try out almost every feature offered?
By Shawn Ellis
<!- Go to www.addthis.com/dashboard to customize your tools ->