Overview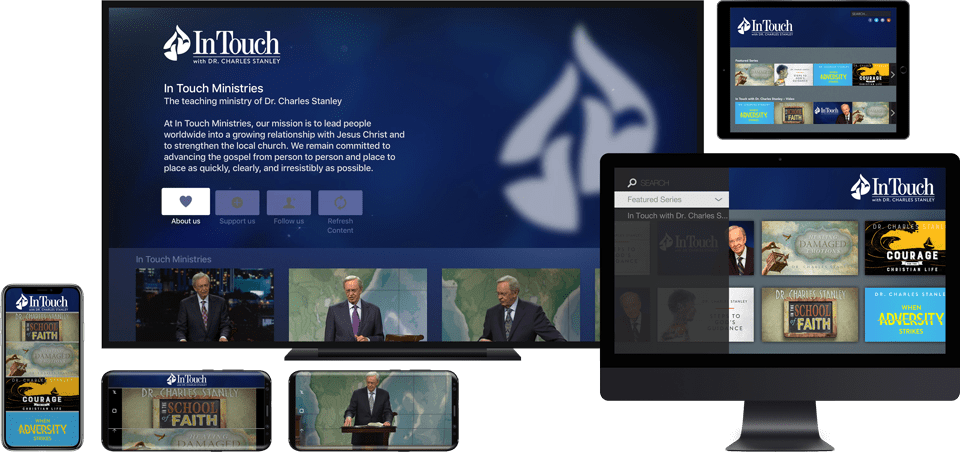 InTouch onboarded with Lightcast.com during Q2/2015. Within 6 weeks, Lightcast.com built the InTouch TV Apps on Roku, FireTV, AppleTV and AndroidTV, in the InTouch branding, with dynamic, real-time control of VOD archives, metadata, background and gallery images and multi-tier navigation structures via the Lightcast Media Cloud.
Within months TV Apps were downloaded and installed by tens of thousands of viewers, and rapidly ranked within the Top 10 of OTT Channels in its category on every App-Store. Over the course of the next years, the scalable Media Cloud and Lightcast's full-service end-to-end OVP, came handy in order to accommodate the rapid growth in viewership. Lightcast.com had the privilege to assist along the way in regards to content and monetization strategy and continouos improvements by rolling out periodical updates to each App, new graphics updates, extension to the navigation structure, app layouts, features and integration additional types of media such as radio streams.
To this day, InTouch's OTT viewership is growing and the Ministry is exploring new, innovative ways to capture viewer's contact information and to further connect and engage with viewers and followers.
Scope of Service
Development, launch and approval mangement of native OTT / ConnectedTV Apps for Roku, AppleTV, AndroidTV and FireTV
Continuous development, extension and updates to the TV Apps
Provisioning of Media Management System for upload, transcoding, management, publishing of on-demand archives and live-streams
Provisioning of Media Management System for management of metadata and image artwork
CDN Delivery of live-streams and on-demand content, bitrate-sensitive and adaptive
Results
Explosive growth of viewership on the leading OTT platforms of over 8,000% within the first 12 months
Increaes in brand-value and visibility through app-installs nationwide and internationally
Development and deployment of viewer engagement tools to connect with new audiences
Productivity increase through workflow automation through integration of proprietary CMS with Lightcast Media Cloud